July is here, which means that half of the year is over already, and we are officially heading into the peak of winter with its daily dose of cold and rain! Don't let the drab slow you down this winter. There is much to do in winter to get prepared for the spring growth plus you can enjoy the many benefits of gardening! Boost your physical and mental wellness, give yourself a sense of accomplishment, relieve some stress, boost your immune system and if you have a veggie patch, you get free nutritious veggies!!
Currently, Lavenders, Camellias, Daisies, Pansys and Violas are blooming beautifully and so are some natives such as Grevilleas, Banksias, Hakeas, Proteas and Kangaroo Paws. We can also start harvesting some winter veggies such as broccoli and snow peas. Some winter flowering bulbs are starting to bloom, such as the eager Daffodils!

With our list of things to do, winter will fly by and you'll be ready to hop into spring!
What's in store!?
Bare Rooted Trees! 
Bare-roots trees and roses are here! In winter, plants go dormant and they transplant much easier than when they're in leaf. This includes your roses, fruit trees and deciduous ornamentals such as Poplars, Elms, Ash's and Oaks, just to name a few. Every year, nurseries supply vast amounts of bare-rooted plants at much cheaper prices than if they were in their pots. This is because they are easier to store and transport, thus keeping costs low.
Choose trees with a good structure or framework. Check for any splits. And remember to prune your fruit and ornamental trees back before planting. This pruning is to remove any damaged branches and roots as well as prepare the overall shape for the spring.
We have a big range of bare-rooted fruit trees and ornamental trees already in-store and more coming in pretty soon, so keep an eye out for those on our website. Here are some that we have already received:
Click here to see all our bare root trees!
We have just received a shipment of thousands of bare root standard roses, so now is the best time of the year to get some in your garden, as they are of great quality. Whether you want 20 of the same colour or perhaps a fantastic mix of different colour roses depending on the garden colour scheme of your choice, you can get all of them in-store here in Campbellfield!
For more on how to plant your Bare Root Roses, Click here!
We have most of the roses in 2ft and 3ft standards with a few 4ft Standards!
To check out our full range of Bare Rooted Roses, Click here!
Garden Tasks!
Preparing the garden. Everything is bare so time to prepare!
Pruning
This is a big one! Winter is when all major pruning is done because you can see the full structure of the plant and remove any problem branches. Fruit trees, deciduous trees and roses in particular benefit from a good prune. Fruit trees bear fruit more prolifically and look healthy after a good prune.
Pruning Standard Roses
1. Remove all the new, soft growths.
2. Cut back any dead, damaged or dying wood.
3. Remove all the suckers. These are buds that are growing from the understock and are found below the bud union.
4. You should cut it back so that it resembles a claw, don't worry if you think you have been too ruthless. The plant should have 4-5 main leaders ready for next season.

Your rose will now have been cut by almost 2/3 of what it was. It may look like a lot but it is necessary and they love it! If you're unsure, ask our staff or take a walk around the neighbourhood and find some of your local rose enthusiasts. Check out how much they will have cut their roses back by and you will be surprised! That's one of the reasons they have such beautiful roses.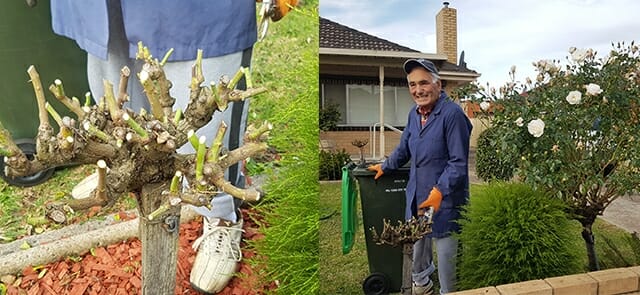 See how the big standard rose has been trimmed back, even though it had lots of leaves and flowers? This ensures that common rose diseases such as Blackspot, Powdery Mildew or Rust do not spread and affect the whole plant, since they are more vulnerable to those diseases during winter.
Protect your plants from Frost!
Frost forms from water vapour in the air, coming in contact with an object that is below freezing temperature. So basically, when the moisture in the air touches a cold windscreen, the moisture sticks to the windscreen and turns to ice!
When it comes to our plants, they expel energy continuously through the day and the night. Energy is warmth! During the day, their expelled energy is replaced by radiant heat from the sun, but at night time they become cooler as their warmth is not continually replaced. When the plant cools enough to get to freezing temperatures, frost can then form on its leaves.
Some plants can handle frost better than others. The moisture inside of the plant's cells freeze and, like all frozen water, it expands, which can cause stress on the cells and therefore damage to the plant. When the ice is quickly thawed by the morning sun, it causes the most damage to the plant.
If your plants have been damaged by frost, don't cut off the damaged foliage until the frosts have finished as this dead foliage will actually act as protection for future frosts.
How to tackle frost
Cover your frost-sensitive plants with sheets, newspaper or straw, making sure to remove them the following day.
Lightly water your plants before sunrise by a sprinkler system (or by hand if you're really keen!) This can prevent frost from forming. You can lightly water frost affected plants, which gently thaws the ice, reducing the damage from the frost.
Use plastic sleeves and stakes to protect plants in open areas


Weed Control
Weeds don't have a seasonal preference, they'll turn up any time! But our one saving grace is they turn up less often in winter and the established ones that need to come out are easier to see. The soil is moist, which makes it easier to pull out these little suckers.
For the tougher weeds like clumps of Crowsfoot and Crabgrass, Dandelions or Oxalis you made need a tool to get the whole root out. The importance of getting the whole root out is so it doesn't re-sprout. We don't want to have to weed again! You can use a hoe or even a butter knife.
Drainage
Keep an eye out for drainage problems in the garden. After heavy rains, you can easily spot places in the garden that accumulate water and form little pools. These spots are ideal for plants that do not mind waterlogged soil. You can also use gypsum or clay breaking liquid to break up the clay soil and amend it with lots of compost and organic matter, which will improve the drainage.
Transplanting and moving
With the nice cool weather, it is an ideal time to move or transplant plants as the plants have time over winter to grow new roots and be ready for spring. You can repot plants that have outgrown their pots and are getting root-bound. Remove the plant and trim some of the roots at the bottom, shake off some old soil and add some fresh ones at the bottom of the pot to give your plant a fresh start. They will love it!
Fungal Disease
Leaf curl is mainly a disease of peaches and nectarines, though it may also affect almonds and apricots. It's caused by the fungus Taphrina deformans and occurs wherever peaches and nectarines are grown. Some symptoms are leaves that are entirely or partially curled, distorted, and are initially pale green in colour before turning red or purple. This will result in fruit that has raised, irregular rough patches, usually red in colour. Such fruit often falls prematurely.
You can treat this with commercially available copper or lime-based fungicide sprays just during bud swelling, but before they have opened. Once opened it is too late to spray as the leaves will get damaged.

---
Get a Free Garden Design
If you're starting a new garden bed you a whole new garden, winter can be a great time to start planning it. Once you've completed some of the steps below you can start to plan out where you will want to plant that new hedge or vegetable patch, build up an entirely new garden bed or landscape the whole backyard! We understand that this can sometimes be a little daunting so if you're unsure, speak to one of our sales staff about our Free Garden Design service with Chris. He will be able to assist you with all your future garden plans!

Garden Stimulus Package
Our Garden Stimulus Deals are still going strong! We have heavily discounted over 70 of our top selling products to make gardening affordable even with a small budget! These products are in-store and ready to be shipped to you in just a couple of days!
Click here to see all our Garden Stimulus Deals!
Winter Garden Colour
Very often we tend to think of winter as being a very dull time of the year for the garden. We have put together a little selection of plants that will flower in winter or just add a splash of colour thanks to their vibrant foliage!
Winter Flowers

Indoor Plants

Some days it is just too cold to be outdoors gardening, and also, not everyone has the luxury of outdoor space for plants. If that is the case for you, you can always get some indoor plants to brighten up your living spaces.
Here are some important tips for indoor plants during winter:
Indoor plants grow very slowly during winter, so no need to fertilise.
Prune and remove dead branches to tidy up the plant.
Keep your plants away from heaters and vents as these cause the plant to dry up and wilt pretty fast. So water your plants sufficiently.
Keep an eye on the moisture level of the soil to avoid over-watering.
As the trajectory of the sun has changed in the sky, you might need to move the plants to a sunnier/brighter spot.
Clean the windows for maximum sunlight and also the leaves of your plants of dust, to allow them to photosynthesise efficiently.
The Vegetable Garden
It's truly cold now, but it is just what some veggies love! Many people are concerned that nothing will survive in the cold weather, but that is just wrong because many winter veggies thrive and grow so well in the cold weather! It is even easier as you will rarely need to water the garden!
You can plant the whole range of brassicas such as cabbage, cauliflower, broccoli, Brussel sprouts.
Leafy greens such as Asian greens like mizuna, tatsoi, pak choi, lettuce, rocket, spinach, mustards, spring onions, leek, kale and swiss chard.
Legumes such as Snow Peas and Sugar snap peas are very easy plants to grow right now, just make sure to provide some trellis for them.
Root crops such as radish, beetroot, turnips, swedes, parsnips, carrots, onions, potatoes and garlic. All of those would take 2-3 months before harvest, except for radish which is ready in just 30 days, while potatoes take between 90 and 170 days and garlic that takes about seven to eight months!
You can now remove any protective netting that you were using to safeguard the brassica and Asian green plants from the Cabbage White Moth and its hungry progeny, the caterpillars. As the weather has cooled enough, the moths or butterflies no longer pose a problem.
Asparagus Time to cut back the asparagus to the ground, which has yellowed as expected and then top-dress the plants with a combination of compost, aged cow manure and some slow-release fertiliser pellets.
Check out our available range of fruits, vegetables and herbs.

Some great companion plants for all these are herbs are sage, winter thyme, parsley, mint, chives, coriander, dill, oregano, marjoram. They deter pests such as caterpillars. Basil does not tolerate the cold and should be grown in warmer months.
Edible Flowers
Flowers such as Pansies, Violas, Nasturtiums, Calendula and Borage are great for the winter patch! They add colour, diversity, repel pests and most importantly are tasty and pretty additions to salads!

To see our full selection of Fruits, veggies and herbs in store. Click Here!
Native Plants
Native plants are beautiful! They provide shelter and food for wildlife and promote biodiversity and stewardship of our natural heritage. They are unique because they are perfectly suited to the environment that they belong to. This means that they should survive on local rainfall patterns and in the local soil! Here is a selection of the most popular varieties we have in store right now!

Click here to see all of our Natives!
That is all for this July in the Garden tips and tricks article, Melbourne, Victoria, Australia. Wishing you all the best, keep yourself warm and safe this winter!
Hello Hello Plants.