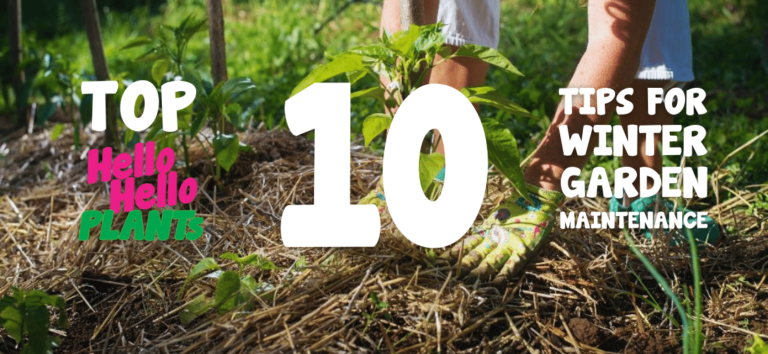 Top 10 Tips for Winter Garden Maintenance
Our tips for winter garden maintenance to prepare your garden for spring in Australia. Winter in the garden can seem like a miserable experience. Deciduous trees have lost all of their leaves, annuals have died down and a lot of things aren't flowering. It's cold outside!
But it's a very busy time for maintenance, and the work done now will have a huge impact on how your garden looks in spring and summer, right when you want to get outside and enjoy it. If you want to know how best to look after your garden this winter, check out our top tips below, and get your garden prepared and ready for a big spring burst of colour!
---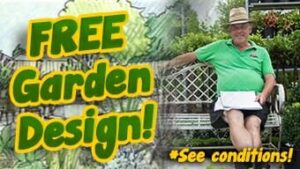 Don't forget, winter is the best time to plan and prepare your garden for the warmer growing months. So now is the best time to prepare your soil, get mulching and if you're really in need of help, book a Free Garden Design with Chris!
---
---
1. Survey the Site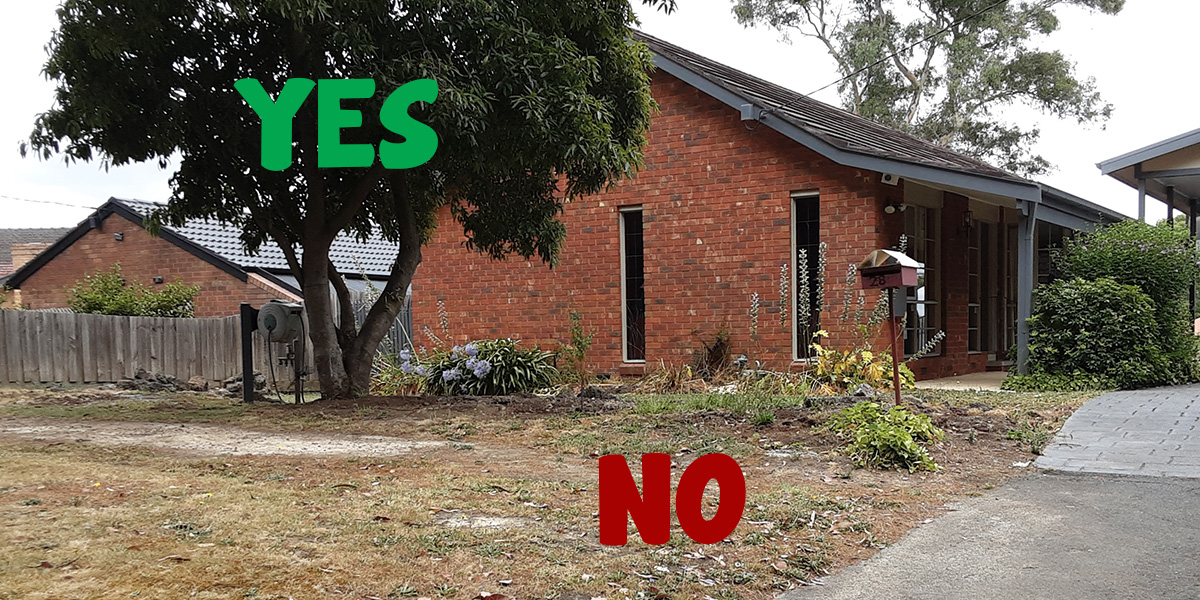 This is an easy one. Take a stroll through your garden with a notepad and pen or take photos with your phone. As you walk through you're looking for things you want to change, fix or want to know more about. It could be as simple as less leaves in the walkway next year thanks, or you might just want more colour, which means another trip to the nursery, yay!
Think about what didn't work over the last few seasons, what plants were struggling, what did well and do you need to plant more of them? Does your soil look a little bare and dry meaning you need to retain more water, or is it super-dooper soggy and therefore drainage needs to be considered. What do you want your garden to look like this coming spring? Is a section a bit bare and you want to fill it? Jot down everything you want to address and don't stress if you don't get through all of it!
Back to list: Top 10 Tips Winter Garden Maintenance
---
 2. Update or Remove Unwanted Plants
You don't have to live with other people's choices, so if there is a plant that is growing in your garden and you don't like it – remove it! With so many varieties on the market, there's no need to settle for whatever is already there.
Part of winter garden maintenance is taking the opportunity to think about changing the the garden bed completely. It is quite common for some plants to come to the end of their natural life at this time of year. Or they could just be looking worse for wear, being the wrong plants for the wrong spot. Necessary removal of plants is a chance to start fresh and replace them with something new and exciting.
Check out our Garden Styles for some inspiration!
Back to list: Top 10 Tips Winter Garden Maintenance 
---
3. Time to Transplant!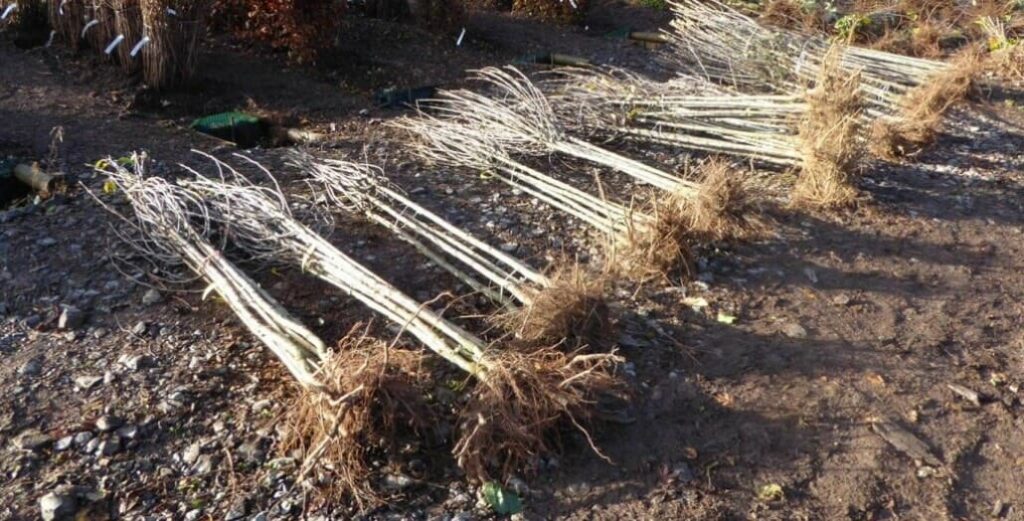 Have you ever hastily planted something someone has given you because you can't think of anywhere else to put it, to later think: that was the completely wrong spot. Well, this is next on the winter garden maintenance list, because now is the time to transplant it!
Winter is also the time for wholesale growers to pot up their stock, transplant them into pots or to sell them bare rooted. It's during winter that plants are dormant or have slowed their growth right down. This means disturbing their roots will do minimal damage and is safer than if they were transplanted in spring or summer.
However, not all plants can be transplanted, so talk to your local nursery or a professional gardener for advice before moving your plant. The more advanced the plant, the harder it will be to move too! Deciduous plants generally transplant better than evergreen, with the exception of plants such as 'English Box'. These are evergreen but go semi-dormant in winter and can be moved or sold bare rooted at this time.
Back to list: Top 10 Tips Winter Garden Maintenance 
---
4. Pests, Diseases and Deficiencies

With the cold wet weather and the fall of leaves comes some pests and diseases. So part of your winter garden maintenance is tackling these little blighters. While they are prevalent almost all year round, winter can seem to be a quiet time for pests and diseases, if the weather is really cold. The problem is, they lay dormant in your soil ready for spring!
To prevent pests and diseases, keep your soil and plants happy and healthy. A happy and healthy plant can combat most pests and diseases by itself, without any intervention from pesticides and fungicides.
Refresh mulch, as old mulch can have nasties overwintering in it. Prune off dead, dying and diseased wood and foliage to maintain good airflow amongst branches and in problem garden beds. Lastly, remember to fertilize your plants to keep them happily fed.
Some plants might show signs of nutrient deficiency. A great example which happens every winter is Box Bronzing. This is where a box hedge will turn orange, yellow and bronze in the cold, which can easily be rectified by the application of lime.
For more on Pests and Diseases, check out our Pests, Diseases and Deficiencies Advice Page here!
Back to list: Top 10 Tips Winter Garden Maintenance 
---
5. Prune, Chop and Divide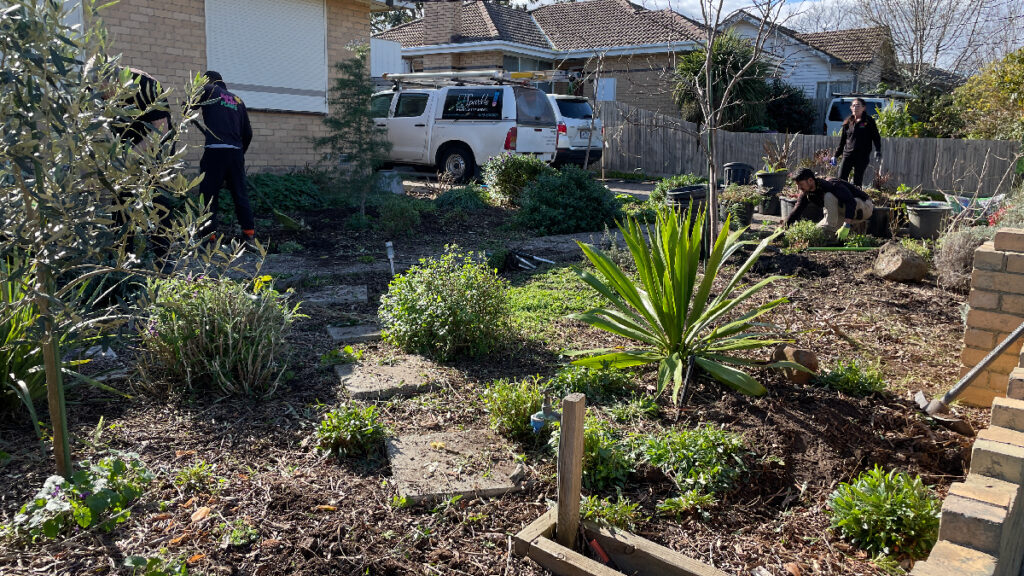 It wouldn't be winter garden maintenance without pruning!
Fruit trees, amongst many other deciduous trees, require yearly pruning to even produce delicious fruit, prevent pest and diseases, allow airflow and sunlight in and to keep them at a reasonable height so we can harvest them.
Hedges will need another trim to be kept in shape. Ornamental grasses are also given a vigorous haircut. Dormant grasses like Purple Fountain Grass that have died back in winter are chopped right back to 2-4″ stumps. Evergreen grass varieties are shaped or trimmed right back to allow new growth through. Dead seed heads on cottage perennials and grasses are removed, along with any browning branches or leaves.
And let's not forget roses! Roses are cut right back to almost the size of a fist for young plants. For more on pruning, check out our Pruning Advice Page here!
Back to list: Top 10 Tips Winter Garden Maintenance 
---
6. Add Some Colour
We often forget that you can have wonderful winter colour in the garden, so when surveying your garden as part of your winter maintenance, assess whether you need to add some new plants for colour to brighten it up!
Colour doesn't have to mean more flowers. There are many very colourful and classy winter foliage plants available too. For more on winter colour, check out our Top 10 Winter Colour Plants and Top 10 Winter Flowering Plants.
Back to list: Top 10 Tips Winter Garden Maintenance 
---
7. Prepare Your Garden Beds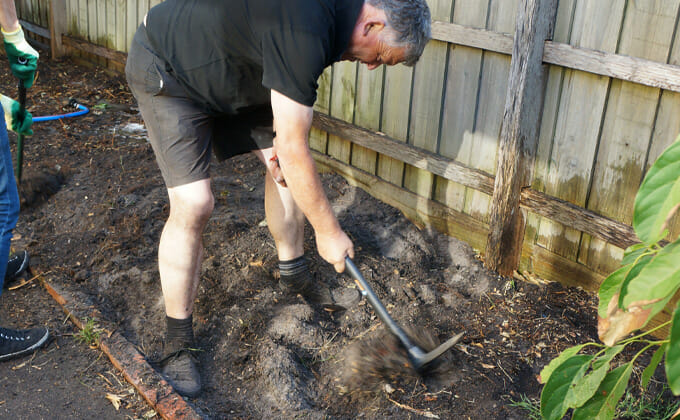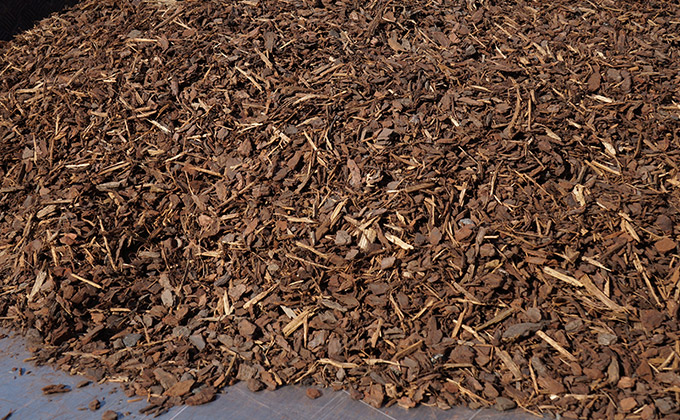 Get your garden beds and soil ready for early spring planting! If you're planning on making a new garden bed or planting something new in a pre-existing bed, prepare your soil as part of your winter garden maintenance, now:
Add compost & manures
Turn over the soil
Weed your garden
Fertilise
Apply mulch
It's nice and cool this time of year, so lots of manual labour doesn't become quite as exhausting as it does in summer. The soil is damper and is easier to dig up, although you might get a bit muddy. This also means weeds are easier to remove.
Realign your garden edging too. During the course of the warmer months the lawn can start to creep into the garden beds or your plants can start to spill a little too far over the edges.
Check out some of our articles on understanding and improving your garden soil:
Back to list: Top 10 Tips Winter Garden Maintenance 
---
8. Weeds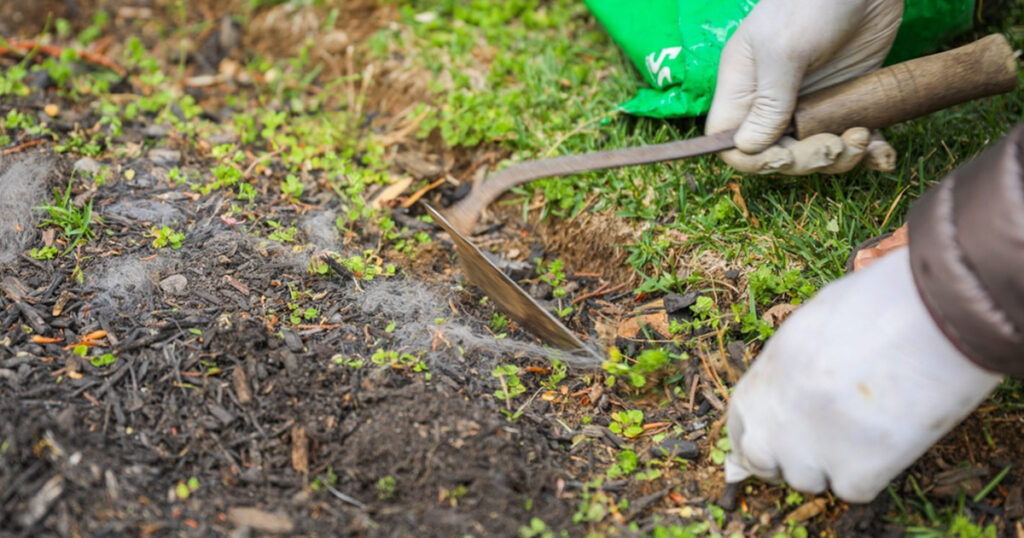 Lots of weeds spring up in winter. Lots of weeds spring up all year round! But in winter they can be a lot easier to manage and remove, so weeding is a key winter garden maintenance step. This is because the soil has generally been softened by months of good rainfall, so getting weeds out by the roots is less of a chore.
There are a few methods of removing weeds; getting on your hands and knees and pulling them up one by one or in fistfuls, dabbing poison on cut stems, spraying (although only spray when it's a still, clear day and there's no sign of rain) or even flame weeding. What's flame weeding? Basically taking a mini flame thrower to your weeds. Sounds fun, right! Best used for paths and NOT in the garden bed, for the safety of surrounding plants!
Back to list: Top 10 Tips Winter Garden Maintenance 
---
9. Fertilize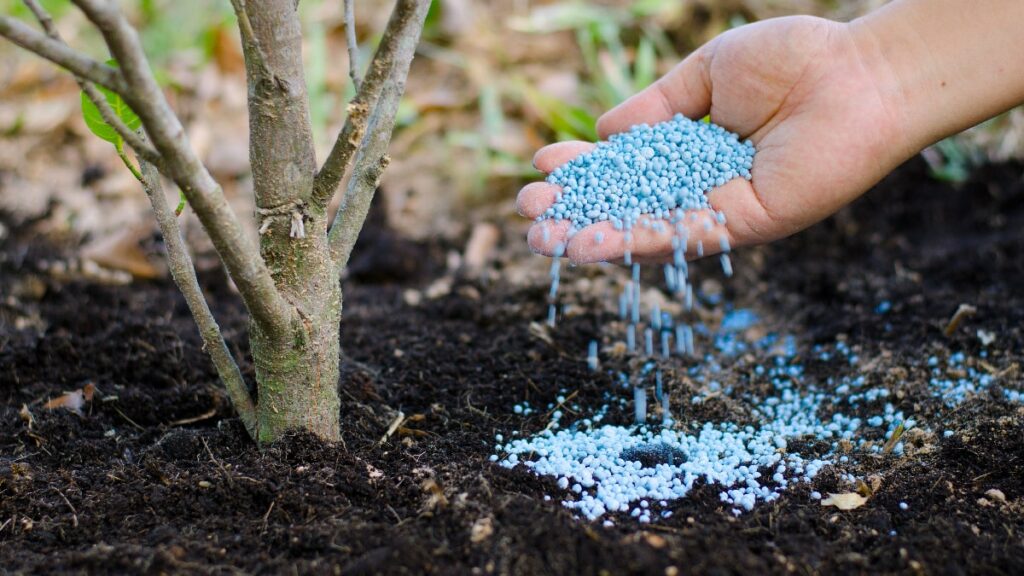 We begin to fertilize plants in late winter to early spring, depending on the plant variety, so this is one of the last steps in your winter garden maintenance to do list. Chris explains that just as you wouldn't eat a lamb roast in the middle of the night, we don't fertilise dormant plants in the dead of winter.
However, plants begin to revive much earlier than what the untrained eye sees. Deciduous shrubs and trees can already be prepping their buds as early as July, and start getting hungry as a result! When preparing beds for planting, mix in Dynamic Lifter, pelletized fertilizer such as Charlie Carp Fish Works Slow Release or Osmocote Slow Release fertilizers or manures. This gives them time to break down and to be converted into a form that the plants can take up, right when they need it toward the end of winter.
Back to list: Top 10 Tips Winter Garden Maintenance 
---
10. Mulch and Toppings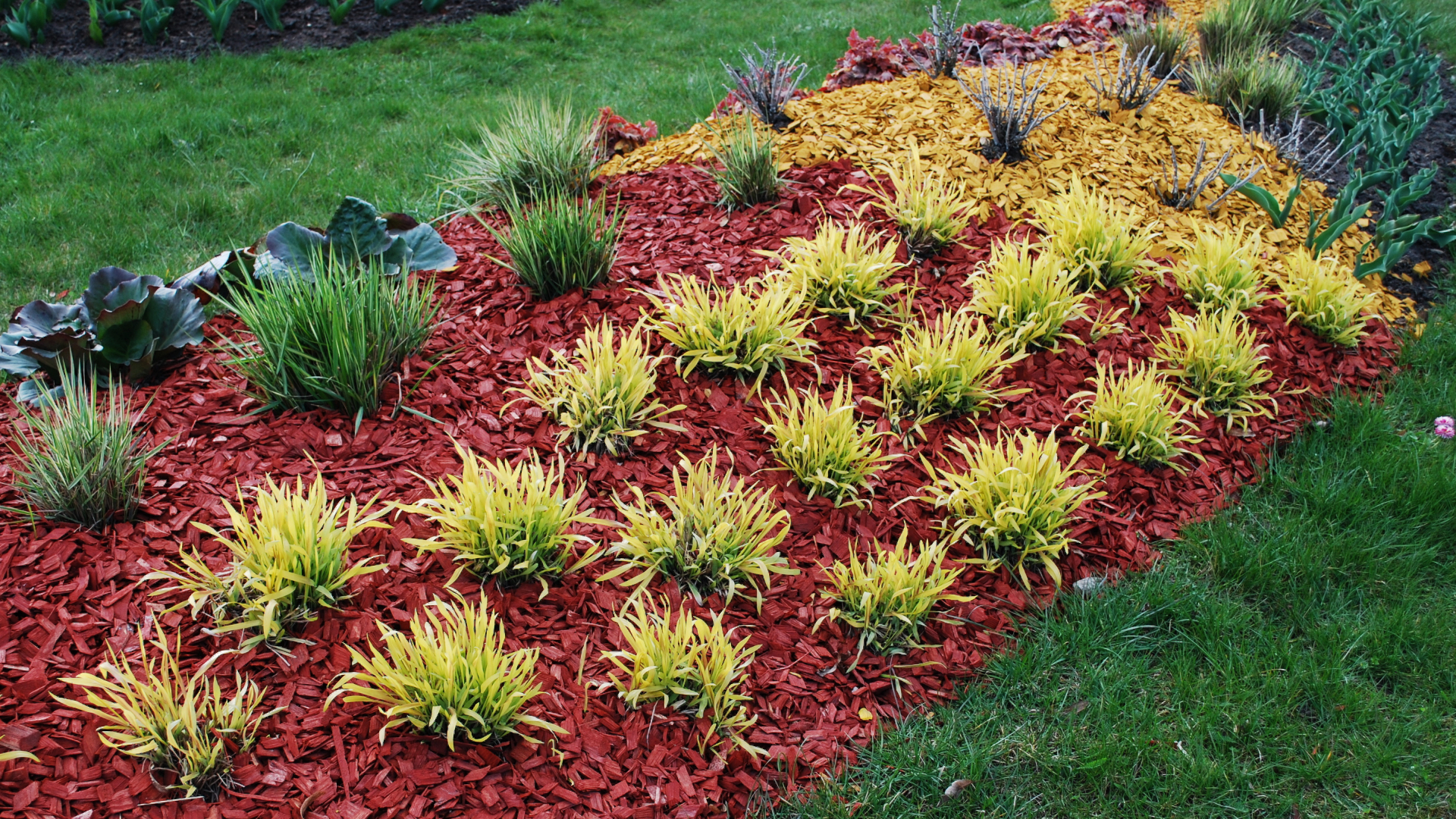 You've prepared your garden beds by removing all unwanted weeds, pests, replacing any unwanted plants, adding fresh soil, composting and fertilising. Now the last step of your winter garden maintenance is to top it all off with some mulch!
Mulch is the beautiful finishing touch to your garden. It protects the soil from evaporation whilst simultaneously breaking down and adding much loved organic matter to the soil. Plus it creates a neat background for your plants to really stand out against.
Paths and driveways can also be redressed now, as over the year the topping gets washed or blown away or gradually pressed into the ground. So why not re-gravel at the same time as you mulch, giving your garden a real make-over ready for spring!
For more on different types of mulch and what they're used for, check out our Mulching Garden Advice page here!
Back to list: Top 10 Tips Winter Garden Maintenance 
---
Meet our winter garden maintenance test subjects: Jocelyn & Stuart
---
This week Chris was live on Facebook to demonstrating important winter garden maintenance jobs in an actual Melbourne garden: he chose Stuart & Jocelyn's place in Glenroy.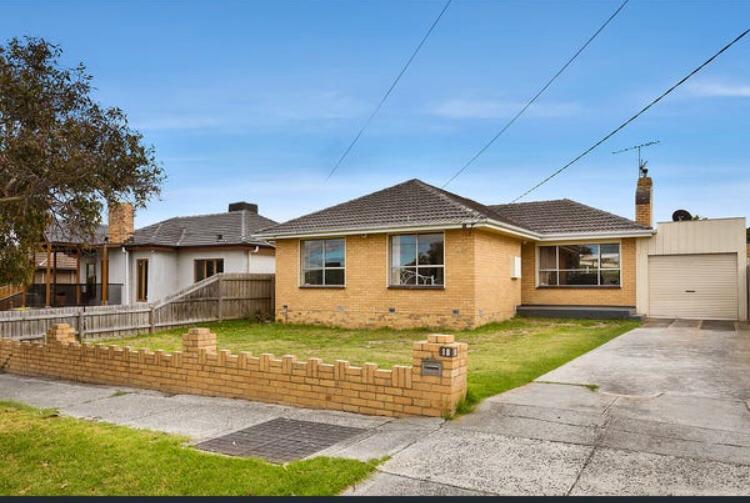 Almost 4 years ago now, Jocelyn & Stuart wanted to do something about their front yard. They had recently purchased a 70s brick bungalow, the garden consisting of nothing but lawn. Since they were getting a brand new driveway put in, they decided they also wanted a brand new garden to match. Needing some professional advice as first home owners, they came to Chris for his free garden design service.
Stuart had one requirement: NO LAWN to mow. Jocelyn wanted purples and pinks and lots of lovely beautiful plants for visual interest, including some edibles to provide fun for their young kids. Chris considered their needs and budget and they came away with a gorgeous affordable cottage style garden design.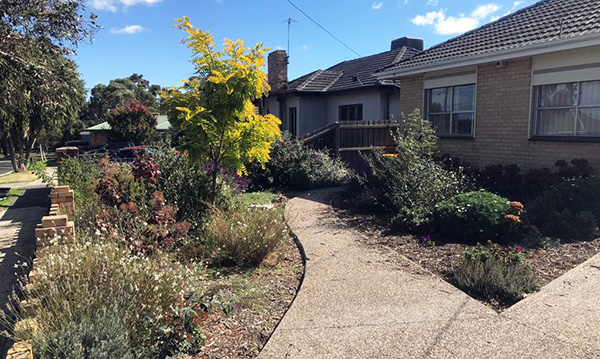 Now, 3 years later, the garden is well established and has really flourished! But like all gardens it needs a winter tidy up, ready for spring. Chris also noted that it features many plants which looked wonderful in spring and summer, but lacked a but of winter interest which could be improved with winter flowering and winter colour plants.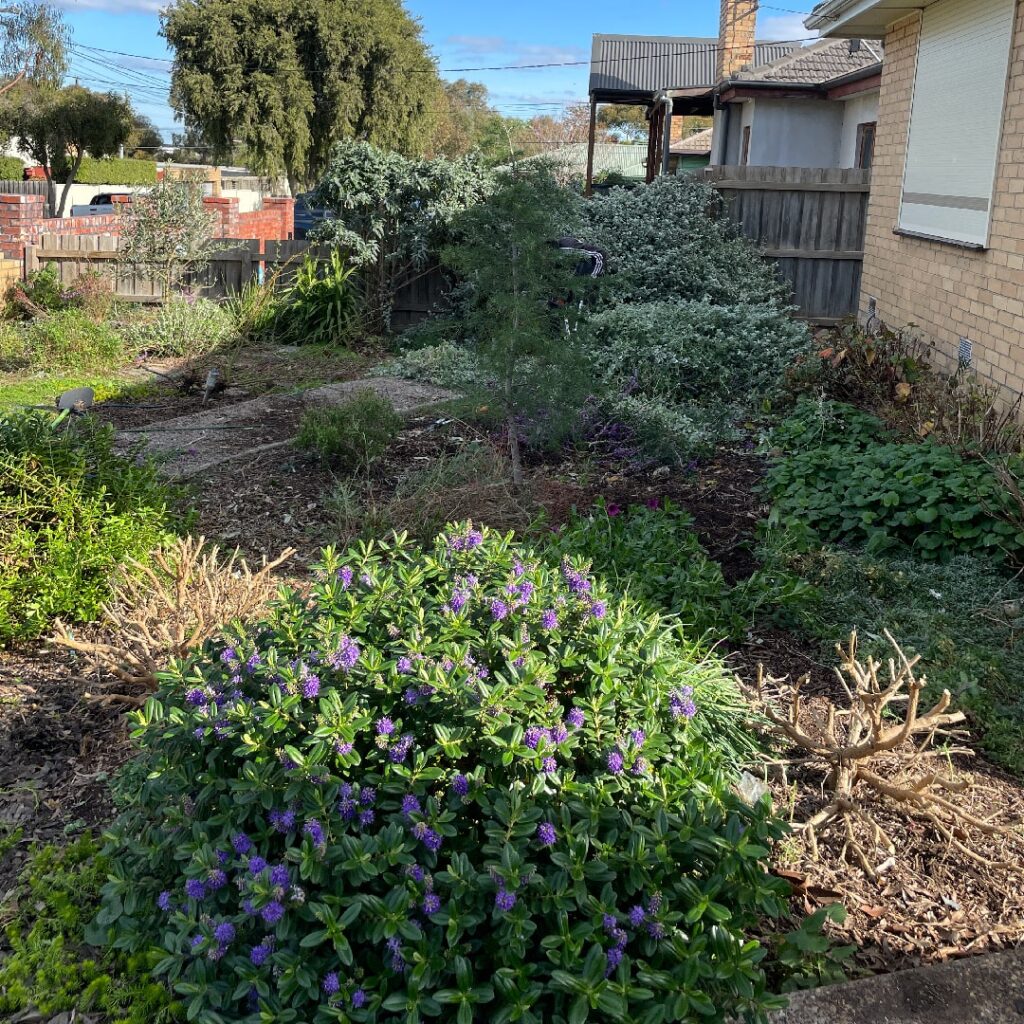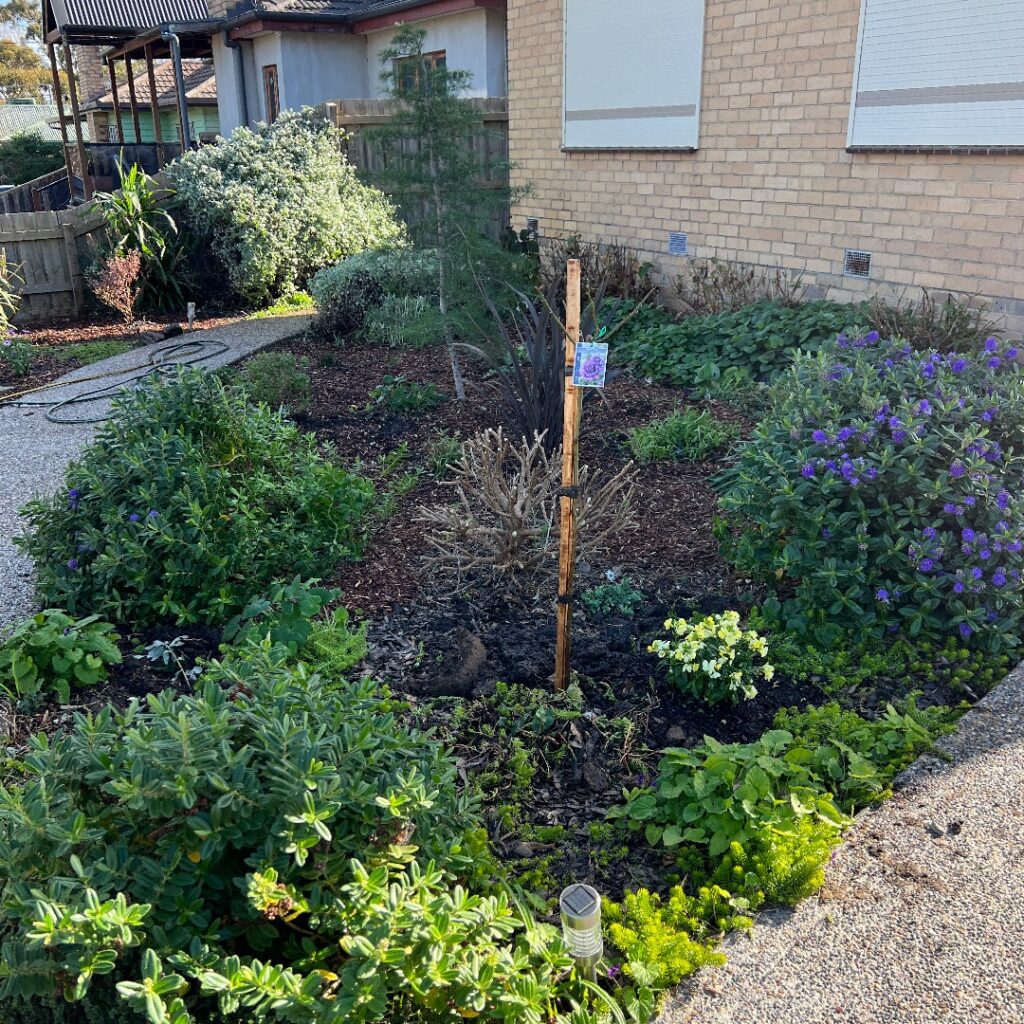 Here we have the garden at the very beginning of the winter clean up. Any plants that are over grown are cut back, dead flower heads are removed, evergreen shrubs are trimmed and shaped and everything is getting cleared away. It can get quite messy!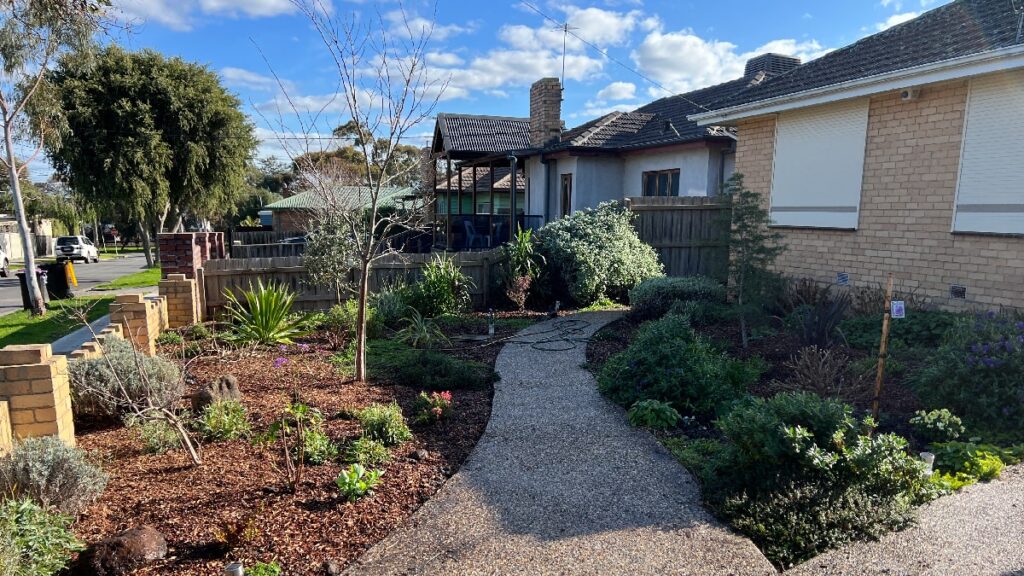 Boy is it worth the effort, look at the results! In just one day the garden is totally transformed into a fresh, new space. Adding the finishing touches of a nice new layer of mulch really makes these plants pop, suppresses any new weeds and will gradually feed and protect the soil. And with some bright and colourful new plants, this garden will continue to look fabulous every season.