Archive for the 'Plant Sales & Plant Specials' Category
Comments Off

on Amazing Box Hedge and Border Specials!!!
We're clearing out 20,000 English Box in 6" pots that are 10″ to 15" inches tall for only $3.49 each! You don't have to buy 100, you don't have to buy 50, you don't even have to buy 10! Come in and buy 1 to get this spectacular price! It's about a 3rd of what […]
Want to Ask the Tutu Guru?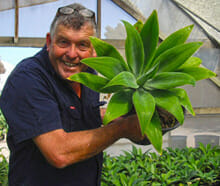 Simply visit our
Contact page
and submit your garden or plant question.
Recent Posts

Top 10 Indoor Air Purifying Plants!
September 3, 2021

September in the garden 2021
September 2, 2021

August in the garden 2021!
July 31, 2021

Big, Bushy and Cheap!
July 16, 2021

July in the Garden
July 2, 2021