Imagine being in your backyard relaxing, enjoying a drink and kicking back on your deck to catch some serious rays and then you catch the neighbour having a peek at you over the fence. Relaxation ruined! Or what if a two-storey unit goes up right next to your property with a whole floor of windows peering down into your backyard creating the feeling that you're always being watched, even when you're not!
Not all of us are lucky enough to get views of the rolling hills or the ocean from our yard. Instead we're in fence-to-fence housing with backyards to match. To reclaim some privacy, screening plants are essential. But screening is not the only reason to be planting a hedge, green wall or screen.
Top reasons to plant screening plants:
Privacy from neighbours, tall units and busy roads
Protection from strong winds and gusts
Cools any concrete or brick areas during summer and subsequently reduces heat inside the house.
Thick screens are great sound insulators from busy roads
A filter for dust and smoke pollution that might otherwise just blow onto your outdoor furniture, deck, windows or pool
Attract wildlife and birds
Hides unsightly features such as water tanks or ugly walls
Create a lush, relaxing outdoor environment
Hedging or screening plants. What's the difference?
Although they sound the same, hedging and screening have some subtle differences. It just depends on your needs.
A screen is typically less formal in design than a hedge, and it is used to hide an eyesore, create privacy or block the wind
A screen often uses more individual plants, rather than a dense block of foliage
A screen commonly requires less maintenance than most hedges, which usually need several trimmings throughout the year to keep them in a tight shape
Hedges provide total block-out while screens break a view (from a particular window for example)
A hedge will be dense, generally from top to bottom, and will block out light and views while a screen can be pleached halfway down the bottom.
Planting and Growing Tips for Screening plants:
Drip-irrigation system on a simple timer is highly advised. Correct watering is critical for quality growth.
Work the soil according to the plant requirements. Adding some quality compost or composted manure through the soil is ideal.
Once planted, fertilise with some liquid fertiliser and feed at regular intervals. A controlled release component that feeds for 6-months and an organic component to look after all-important soil microorganisms works wonders.
Mulch well at planting time and top-up at least once a year.
Prune early and prune often. Regular pruning and shaping makes a screen dense and bushy, similar to a hedge. Light pruning will allow more light through and the plant to grow more tree like.
If you want a dense screen, grow plants fairly close together – a distance slightly less than the mature spread of the plant (We have provided ideal planting distance for each plant below)
Be patient! If you are on a budget and will plant fewer or smaller plants, they will take some time to get established before they start growing fast. If you want a quicker effect, be prepared to pay more for larger plants; what we would call instant screens.
Should you be in a real hurry, bamboo makes a quick and tall screen. Clumping varieties are advised rather than the running types, which are prone to taking over a garden, and your neighbours!
Make sure to trim your screens at the desired height often. If you let them grow too tall, they might be difficult or even costly to trim back afterward.
Choose your plants by your requirements such as soil type, growth speed, maintenance, and also your visual preference. The wrong plant in the wrong environment won't grow!
Ok, now that you know the basics, let's take a look at the plants

Top 10 Screening Plants
Leighton Green Cypress
Bamboo Gracilis
Sweet Viburnum
Weeping Lily Pillys
Ficus Flash
Cherry Laurel/ Portugal Laurel
Photinia Robusta
Orange Jessamine
Pittosporum Silver Sheen &  Pittosporum Wonder Screen
 Neighbours-Be-Gone Lilly Pilly – Syzygium Australe

1. Leighton Green Cypress
Leighton Green Conifer is a fast-growing conifer that provides great green colour all year round. Grows upright and is usually quite symmetrical.
Click here to read the full fact sheet.

Ideal for: Total visual, noise, dust & dirt protection. Large gardens – NOT small
Growth Rate: Fast – Upto 3 meters in the first 18 months
Height: 10-12m if left unchecked
Soil Requirements: Tolerates nearly all soil types but prefers well-drained, fertile soil.
Maintenance: Medium-Low. Prune 2-3 times a year to keep nice and thick.
Planting Distance: 1m apart
2. Bambusa 'Gracilis/Slender Weavers'
Slender Weavers Bamboo's stalks are tall, narrow, and straight, and graceful leaves with ever-changing green stems make this bamboo a real stunner. It is ideal as a large screening plant for privacy against a double story next door or planted in a small courtyard as a great specimen. It is also an extremely fast grower and will grow in a wide range of situations including a windy coastline or a shady mountain gully.

Ideal for: Tall narrow hedge in small spaces.
Growth Rate: Very Fast- 3 to 4 meters in 12 months time
Height: 4-6 meters, up to 8m in warmer areas
Soil Requirements: Deep, well-drained, fertile soils.
Maintenance: Low. Requires regular watering so a timed watering system would be ideal. Prune and thin once a year. Thick shoots can be dried and used as garden stakes!
Planting Distance: 80cm apart for a dense screen. Keep in mind that they clump (send out new shoots all the time.)
3. Sweet Viburnum – Viburnum odoratissimum

Sweet Viburnum is a dense evergreen shrub with distinctly large leathery oval green leaves and producing fragrant small white flowers in spring. It makes a perfect ornamental addition to any garden, particularly as it sprouts beautiful red berries in autumn.

Ideal for:  Ornamental flowering hedge or screening plant that grows even in shaded areas
Growth Rate: Moderate – 30-60cm per year
Height x Width: 3-4m
Soil Requirements: Moist, moderately fertile, cool soil
Maintenance: Low-Moderate. A couple of prunings a year to keep it in shape. Produces berries that may require cleaning up.
Planting Distance: 1m apart
4. Weeping Lilly Pilly – Waterhousea floribunda

This Australian native is known as the Weeping Lilly Pilly due to its slightly drooping habit, which is visually very attractive. It is often used as a hedge or screen and responds well to pruning. Although often used as a hedge, it can also be planted as an evergreen tree. It flowers white in summer. It can easily grow in many soil types and copes well with damp soils. It is fast-growing and has a lovely, lush, compact foliage with the new growth a pink/rust colour adding contrast. It is less prone to bug attacks than other Lilly pillys.

Ideal for: Average soil types and around pools with regular trimming
Growth Rate: Fast. Up to 2m a year.
Height: 8m if left unchecked
Soil Requirements: Grows well in a wide range, but prefers Loamy to Sandy loam soils
Maintenance: Moderate. Twice yearly pruning to keep it in shape is advised. Does produces tiny fruit in warmer climates that may require cleaning up. Not so much in Melbourne
Planting Distance: 1 to 1.5m for total screen
5. Ficus 'Flash'
Ficus hillii 'Flash' is ideal as a screen because of its dense foliage, fast-growing habit and ability to be trimmed into many shapes! It has attractive foliage which, consists of different beautiful glossy greens. Ficus hillii 'Flash' can also be shaped into a standard (ball on a stick) topiary style tree and pleached (Leaves on top, bottom trunk bare). Caution: It does have an aggressive root system so it is advised to contain the size of the plant to contain the roots. Not suited for around pools.

Ideal for: Very windy, drought-prone areas, salt
Growth Rate: Fast – 1-1.5m per year
Height: 10-15m tall in the natural environment. 4-6m tall in urban environments.
Soil Requirements: Fast. Up to 60cm per year.
Maintenance: Low. One or two prunings a year is enough.
Planting Distance: 1 to 1.5m for total screen
6. Cherry Laurel and Portugal Laurel
Cherry Laurel is a large evergreen shrub or small tree that has deep green glossy leaves that are large, leathery, and oblong. The veins are distinctly yellow. It has strongly scented tiny creamy white flowers that appear in spring. Cherry Laurel is an attractive and useful addition to the landscape. This plant is shade tolerant and makes an excellent dense hedge. Prefers well-drained moist soil.
Portugal Laurel is an evergreen, large spreading tree. It features glossy dark green leaves with slender spikes of small, scented white flowers in summer. Portugal Laurel is very effective as a hedging or screening plant that can be kept clipped from 1-4 metres, or left to grow into a small spreading tree. Its dark glossy green leaves provide an ideal backdrop for other plants in the garden, and it's very showy when in full flower.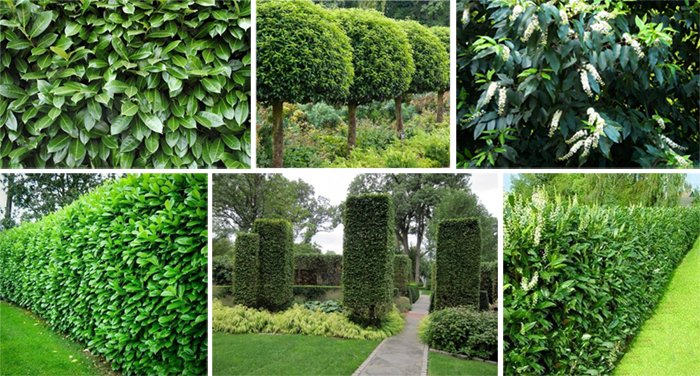 Ideal for: Flowering Screen or Pleached tree
Growth Rate: Moderate- 30-60cm per year
Height: 4-8m depending on conditions
Soil Requirements: Slightly acidic, moderately fertile, moist, well-drained soils.
Maintenance: Low. Twice yearly trimming to keep it neat. Can produce berries that may need cleaning up
Planting Distance: 60-90cm
7. Photinia Robusta
Photinia Robusta is a small fast-growing tree with glossy red foliage turning green in the warmer months. It has small white flowers, that can have a slightly unpleasant odour in summer with red fleshy fruit following. With a dense growth habit, it's great for screening.

Ideal for: Colourful, red and glossy screen
Growth Rate: Moderate- 30- 50 cm in 1 year
Height: Up to 7m
Soil Requirements: Fertile, loamy, and well-drained soil
Maintenance: Low. Pruning two times a year. Flowers may require pruning if they bother you.
Planting Distance: 1 to 1.5m for total screen
8. Orange Jessamine – Murraya paniculata
Orange Jessamine makes a fantastic hedging or screening plant. As it flowers it creates a wonderful feature hedge that is highly fragrant. It can also be used in pots as a specimen tree or as screening on balconies. Orange Jessamine's white, highly perfumed flowers appear in summer in large masses but can spot flowers throughout the year. The uncommonly seen fruit is a small orange berry shape.

Ideal for: Flowering hedge or screen
Growth Rate: Slow to medium – Grows about 30-40 cm per year
Height: 3-4m
Soil Requirements: Adaptable to various soils but prefers loamy, free-draining soil enriched with organic matter
Maintenance: Low. One pruning per year is enough.
Planting Distance: 30-50cm apart
9. Pittosporum 'Silver Sheen' &  Pittosporum 'Wonder Screen'
Pittosporum 'Silver Sheen' is a lovely evergreen screening plant. The silvery-green leaves give it a unique shimmering effect. It can be planted along fence lines to give your space some privacy. It likes full sun, can grow in coastal areas, tolerates light frost, is suitable for growing in containers, and responds very well to pruning.
Wonder Screen is a new form of Pittosporum that is noted for its dense and tighter habit. Similar to 'Silver Sheen' foliage it produces a striking mix of silver and green with dark stems. It will grow in full sun to a semi-shade position. Grows to approximately 2-4m in height.
Ideal for: Different looking screening and hedging
Growth Rate: Fast. 60-75cm per year
Height: 2-4 m high and
Soil Requirements: Adaptable to most soil types except wet clay or really dry but prefers deep, well-drained soil.
Maintenance: Low. One to two prunings per year
Planting Distance: 1 per meter
10. Neighbours-Be-Gone Lilly Pilly – Syzygium australe 
Neighbors-be-gone and Chris running around nude in the garden is literally what made Hello Hello Plants famous back in the day! Chris had (and still has) these wacky ideas for ads and he just had to do them!

Neighbors-be-gone trees can be used to create tall screens, large hedges, and large topiary. They can be planted in pots or confined areas. Although they have the potential to grow into large trees, their size can be contained by regular clipping. Neighbors-be-gone trees have deep green, dense, fine foliage and copper-red new growth and can grow two or more meters per year once established, and love to be clipped and shaped.
Click here to read the full fact sheet.
Ideal For: Thick privacy screens
Growth Rate: Very fast: 1-2m per year once established
Height: Over 25m if left unchecked. Maintain at the desired height.
Soil Requirements: They thrive in almost any soil
Maintenance: Moderate. Requires a few prunings per year and clean up when it flowers and fruits.
Planting Distance: For fast results plant 75cm apart otherwise 1-1.5 metres apart

Some other great recommendations for Screens
Some other great Screens that require Fence/Trellis support

If you already have a fence, you can also plant a climbing plant to grow over it! It might not cover everything, but will provide some privacy, especially higher up.
Here are some more articles you may like:
Sign up for our newsletter below
We will send you gardening tips, great deals, and exclusive giveaways. Happy Gardening!